Early testing community. MyMIlk Scanner user guide for moms. version Jan2021
App VERSION CONTROL. Build 27. Version does NOT support Ob/GYN log, and care team contact & data sharing with a lactation consultant. Build 33. Full. Build 41 via AppStore
There are 4 main screens, and you navigate between them via the bottom toolbar.
My Day screen is where you make scans and add any additional information you want, about your breastfeeding and your baby.
My Insight screen is where the scan results appear, and any other insights, tip, alarms and charts based on the info you provided and your milk scans. The more info you provide daily, the more insights will appear.
My Scan screen is the Mylee control screen, where the scans are recorded. You can reach it directly or via My Day scan task circle. (you can also access all previous scans from here)
My Care team is a link to my support team, lactation consultants, alike mothers and MyMilk team. We are all here to support you on your journey. 
1. DOWNLOAD THE MyLee APP
Install the MyLee APP.  Download the MyLee App from Apple App store, and create your account

4. Congrats! The MyLee App is now on your iPhone. Enter the MyLee App (if it crashes, try again).
5. Press Join, and create your account, and press Register. Password should be at least 8 digit long. Complete you profile data. 
Very important! Enter baby birth date and hour accurately. Baby details registration should be done after birth. You can install the MyLee App before birth, and start the registration step, but STOP at baby birth info, and complete this step only after birth.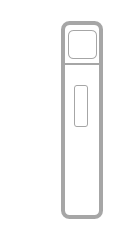 2. ACTIVATE THE MYMILK SCANNER
ACTIVATE.
1. In Mylee App, Go to settings (Top, right) and press MyMilk Scanner.
2. Register your device barcode and press Apply. Your device barcode appears in on the User Instructions provided in the box. You can scan barcode via the barcode reader to avoid typing errors.
3. Go to My Day screen, and get started!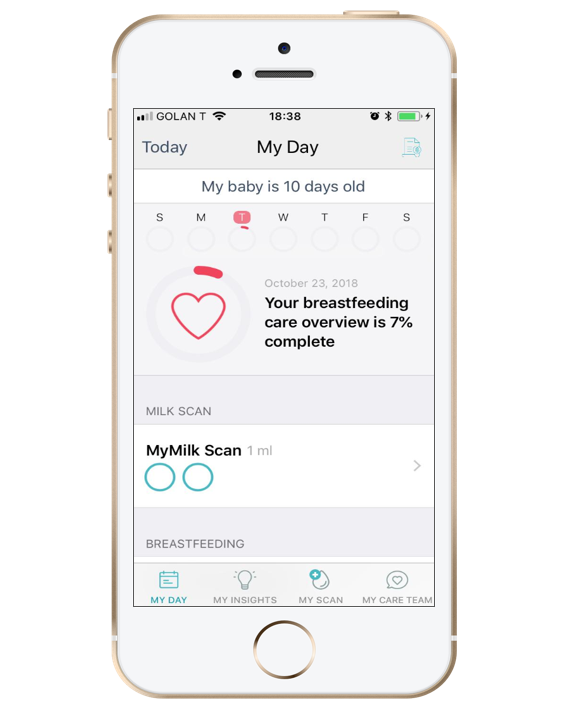 This is your main feedback screen, where you get your scan results, insights, personal tips, alerts, charts and more. All is PERSONALIZED to your own data, based on your milk scan and your daily data records. As much as you fill in MyDay screen, the more personal its gets.
On the Top you see your last milk scan result, along more info, based on the data you recorded.

MILK SCAN RESULTS. On the Top you see your last milk scan result, presented in the scale of 0% to 100%, reflecting the milk maturation from earliest colostrum (0%-40%) to fully mature milk (100%). This maturation process takes several weeks, and progress rapidly at first week. You will get milk index with color: Bright green is advance, yellow-green is matches to your day, and Orange is lower than expected to your day after birth.

OTHER Index. On Top index, you will get more personal indexs, such as averaged breastfeeding, calculated weekly weight gain based on your latest records, as you record more data. Data is presented with color index, reflecting matching to expected from baby gender & days after birth. It really recommended to get the records of baby weight and daily breastfeeding, to track this information.


THE DROP CIRCLE. The drop circle insight reflecting the daily BEST milk scan results, and the calculated milk "age" – the day after birth that the milk scan matches.

What does this "Milk age" mean? We compare your scan result to MyMilk database, and give you back your milk scan "age"- what age it matched in my milk dataset according to dynamics of successful exclusive breastfeeding. Color indicates if calculated milk age is advanced, in-line, or not in-line with the reported age of your baby (bright green- yellowish -orange). good breastfeeding establishment dynamics are linked for prolonged exclusive breastfeeding and copious milk production.

This is a dynamic process, affected by many factors including your breastfeeding practices,breast stimulation, milk removal, formula introduction, physiological maternal factors, and more. Process is expected to change sharply in the first days and continue to progress in the first weeks. When process of milk maturation complete, and you reach 100%, you will see a complete star.
The more you record on your My Day screen, according to your own practice, you will get text, tip, alerts, and charts. Insights are extracted based on your milk biodata, crossed with personal records, and some data-based indexes. All design, for you to get control of your breastfeeding dynamics and practices.
Fill up My Day data, and return to MyInsight and Scroll down to see your alerts, tips, and charts presenting results, and data progress with time. It is important to update MyDay, if some data has been change (baby diapers, breast pain, baby sleepiness, baby weight or conditions), so insight will change accordingly.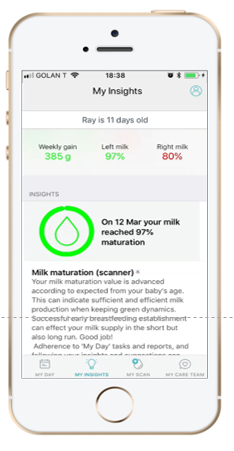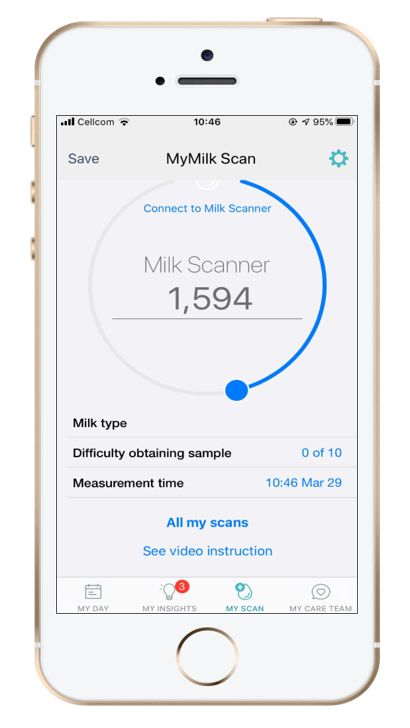 Here you can add care team contacts (lactation consultants, doctors, nurses, partners), or connect with alike mothers that the App linked you with. You can contact them via the App, and to share your Report with them.
It is recommended to use Mylee in close contact with Lactation consultant. In any concern about Your breastfeeding, milk supply or baby, do not delay contact with lactation consultant or other care giver.
You can contact with us with any question, problem, or excitement as well! we would love it! You can send us questions, videos and screenshots.
MyMIlk tech support. You can contact with us with any question, or a problem. we are here for you. day and night. And YES, We learn from your own experience and feedback – so don't hesitate to contact us with any small or big positive or negative issue. You can send us questions, videos and screenshots. Every mom is different – As much as you share with us your specific use case, the more we learn!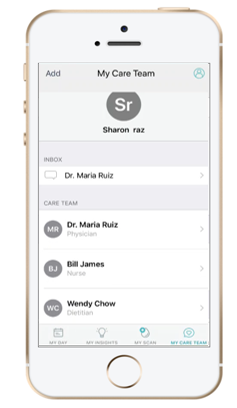 MyMilk Scanner. Scanner controller where you register your device barcode for scanner activation. Scanner barcode is provided in the kit. You can return to this screen parameter in any stage.
My OB/GYN. Personal information about your Obstetrics /Gynecology background, pregnancy, birth, all with the goal to highlight breastfeeding related issues. It is recommended to fill up Ob/Gyn history, so personal insights will be integrated accordingly.
Unit Settings, Terms of use, and How it works guide.
It is recommended to use Mylee in close contact with a Lactation consultant. 
SYSTEM IS NOT INTENDED FOR DIAGNOSIS OR TREATMENT OF ANY MEDICAL CONDITION, AND THE INFORMATION PROVIDED IS NOT A MEDICAL ADVICE. IN ANY CONCERN ABOUT YOUR BREASTFEEDING, YOUR BABY OR YOUR OWN HEALTH, CONTACT WITH LACTATION CONSULTANT OR YOUR HEALTHCARE PROVIDER.


Read our troubleshooting guide for common issues with the scanner or the App. We are working hard to improve it, but in the mean time…