Be on top of your breastfeeding progress
MyLee by MyMilk labs is a milk sensing device for assessing your breastfeeding progress and help you be proactive and achieve good milk supply
With just a few drops of milk, get immediate feedback, insights and recommendations.
Starting from the first days after birth.
Establishing Breastfeeding is a learning process
By the baby & mother, and physiologically by the mother's body, and it doesn't happen over-night
Not having enough milk is the main reason that mothers report causing them to stop breastfeeding before they desire.

This is largly preventable with proper early proactivity and care. The MyLee can help you.

Mylee by MyMilk labs motivates you to reach your breastfeeding goals, by becoming AWARE of YOUR breastfeeding effectiveness and breastmilk establishment.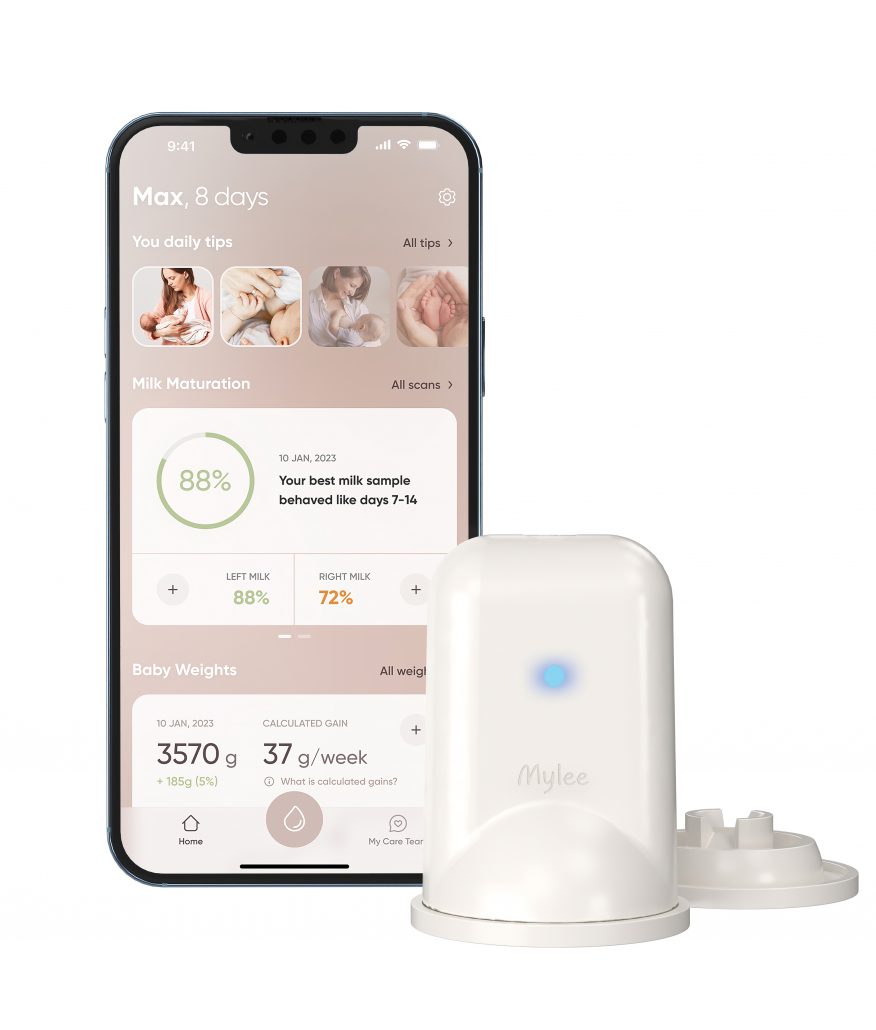 Place 6 breastmilk drops
in the MyLee scanner
Get immediate feedback
and recommendations for
your breastfeeding status
and progress
Your trusted companion throughout the first weeks of breastfeeding
MyLee helps you identify early trends that may lead to breastfeeding difficulties, helps manage your routine and get on the right track.
See your progress. Get personal insights
What mothers say about the MyLee
Early testing community members get the Mylee system for tracking how effective is their breastfeeding and tracking milk supply establishment, visualize progress and get support. Each mother in her unique journey.
SCAN YOUR BREASTMILK DAILY
Insert 6 drops of your milk into the Mylee milk chamber, for immediate feedback on your breastfeeding progress
Enhance your personal insights, with daily tasks, tips & quizzes 
Daily personal reassurance, tips, alarms and progress visualization.
CONNECT WITH A LACTATION CONSULTANT
Share your unique report with  a professional. Get evidence-based guidance. Connect with alike mothers for personal advice
Science backed, Patent pending technology from MyMilk labs.
Mylee by MyMilk labs is a device that senses the electrochemical properties of a tiny human milk sample. This information is then transmitted to your smartphone App, and is processed by MyMilk cloud-based algorithm for computing milk sample status and progress, generating personal insights and alarms.
WHAT LACTATION PROFESSIONALS SAY
Lactation consultants joined our early professional testing group and used the LC- facing system in their routine practice, with over 700 mothers
"As this period is so full of uncertainty this amazing device comes in and gives the mothera boost, reflecting the condition and what should be improved if any. Additionally, having a lactation professional on board is so right and needed"
"It became a valuable tool in my work, especially when everything is going well, but not less important, in cases where I have concerns for mother milk production status, and the new tool is the source of reassurance or reflect the actual state. "
"A decision support tool that assist in manifesting to the patient of the milk status in a clear and understandable manner. It helps to evaluate the amount of efforts needed to be implemented in order to augment milk quantities, in case of low milk supply."
"Great tool that support my evaluation of the mother, and it helps me to create a more accurate work plan"
"It is science fiction that became a reality!"
"It gives validity to my work as a lactation consultant! I feel that by using the device I give better professional support, which is based on a scientific objective monitoring tool"
"It gives numerical indication to the mother. It assists her to get another view of the status. It can show her the progress."
"The device confirms my diagnosis, and sometimes it identifies a concern before it notable to me, so we can work and augment milk production earlier."
"This is an additional tool that I have to support my work while helping mothers. It generates feedback that address the most basic concern of any new mom."
"It is another tool in my professional toolbox, and most moms love it. To my opinion, I am percieved as mort professional when using it."
"Extremely beneficial. It reassures my feeling and suspicions."
"It Gives feedback to the breastfeeding mom on her current status, and a feedback to the lactation consultant how to better plan the breastfeeding management."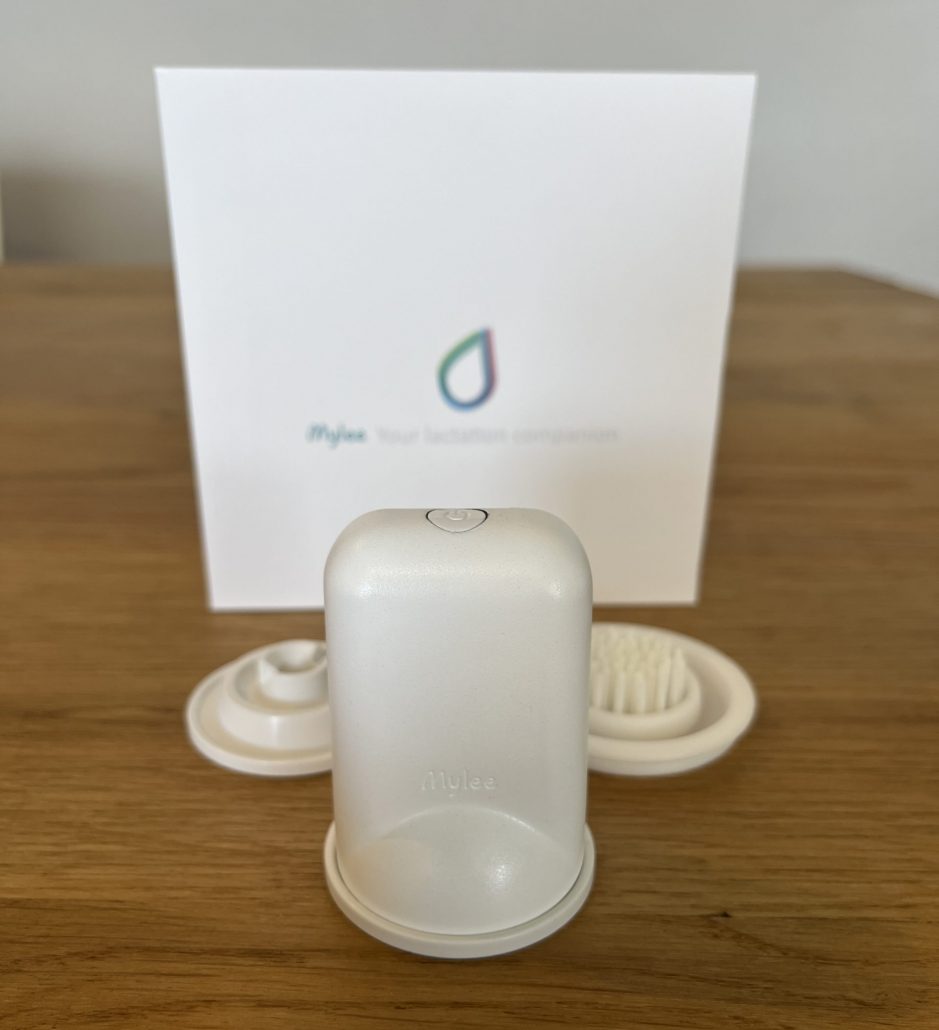 MyLee device
Join our testing community
Join our early testing community and Get the MyLee NOW if found eligible
Complete MyLee Experience
- MyLee Device
- MyLee App
- 3 month remote support

Want to give your breastfeeding a better start?
Learn more about our current testing community, and find out if you are eligible to get a MyLee prototype to your home before birth
MyMilk was built with the mission to help every mother in her breastfeeding journey,
right from the very beginning
MyMilk was built by us, Sharon haramati and Ravid Shechter, Both life science doctors (PhDs) and very passionate breastfeeding mothers.
We have dedicated the past NINE years to improving breastfeeding for mothers, through the establishment of MyMilk, focusing on using tech, and unlocking the information within breastmilk for helping mother avoid and overcome common breastfeeding concerns such as breast pain and inflammation and low breastmilk supply. During these years, we have also led a non-for profit activity, promoting the establishment of the first human milk bank in Israel.
Be part of the FemTech movement
Developing innovative solutions for women, helping them to take control over their own health and wellness.
Raising funds for innovation in breastfeeding has been extraordinarily difficult, and we have now decided it is time to approach the breastfeeding supporting community, and gracefully ask you all to help us in our purpose of helping mothers be on top, and get feedback, control, support and piece of mind in their breastfeeding journeys.
We truly believe our tech can make a positive change in the world. We already see it does. Join our mission and help us get the system from the successful prototype stage to commercial availability.
MyLee system is not a medical device, and is not intended to diagnose or treat any clinical condition, or to substitute for a healthcare provider's consultation.
These reports are not intended to tell you anything about your or your baby's current state of health, or to be used to make medical decisions, including whether or not you should take a medical treatment. Our insights can help you monitor and manage your breastfeeding care and milk supply, and provide suggestions for improving the breastfeeding mom's care. It is advised to consult with a lactation consultant or a medical health provider about your reports.