MyMilk laboratory based testing for Nutritional composition
Personalized nutrition for breastfeeding women based on your own breastmilk test
All from the comfort of your home. Just a breast milk sample.

Order
Click and order from here. Fill in your information to create your account. We will mail you a collecting kit.

Sample
Collect a sample of your breast milk at home, according to the collection instructions. Our service will pick up your breast milk sample and deliver it to MyMilk laboratories.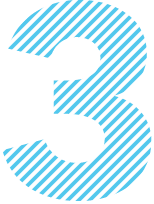 Get results
You will receive a notification when your online personalized report, including laboratory results and individualized recommendations, is available at your secure MyMilk account.​
Know YOUR breastmilk nutritional value
Every mother's milk is unique. Test your own milk.
"Breastfeeding is a natural and beneficial source of nutrition and provides the healthiest start for an infant."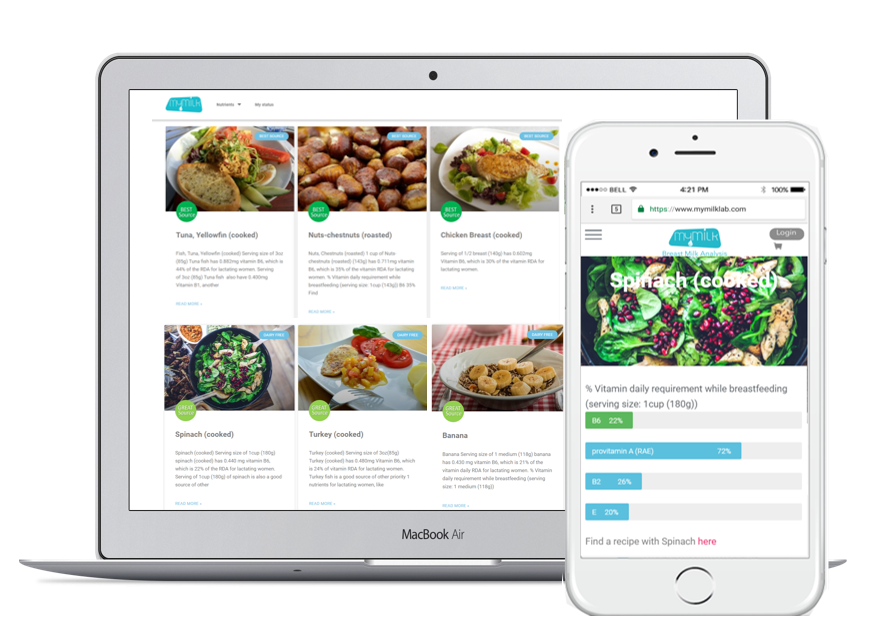 Personal diet based on YOUR milk composition
Every mother's milk is unique. Take control over your own milk composition.
Get nutrient rich food sources and personal dietary recommendations, based on your breast milk results and diet and habit information, to help you achieve your goal as a breastfeeding women. because your milk is the most important food in the world.
Optimal levels of key vitamins in your breast milk support your breastfed baby's development and health. Breast milk levels of these vitamins are primarily affected by current maternal diet, rather than her bodily stores. These can be improved with maternal nutrition or vitamin supplements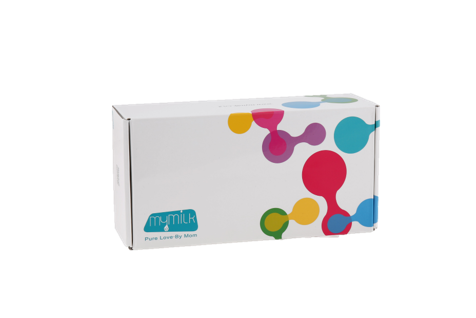 Vitamins: B6, B12, A
Calories and Fat %
Milk Sampling Kit
Personalized report and dietary recommendations 
Consult by lactation consultant or dietitian
Our lab. Our Technology. Your Milk
MyMilk unique and innovative milk profiling techniques offered direct to you with our simple to use patent pending sampling kit
Lab based nutritional testing​
We hear from Moms around the world who write in to tell us about their MyMilk experience—and the impact it has had on their breastfeeding.
"My daughter was 5 months old when I took MyMilk test. I exclusive breastfed her, and since her diet was solely dependent on my milk, I was interested to know my own milk nutritional value. Moreover, as I am vegan, I was concerned that specific vitamins are deficient in my blood and milk, and I wondered if I should be supplemented. In the test I revealed that all is good, except for a small reduction in B12 levels. Following the test, I started to take vitamin supplements, and I also checked my blood to reveal my own deficiencies. Today my daughter is 1 year old, and I still breastfeed her. Motherhood is accompanied by many concerns, a simple test can reduce the concern regarding your baby nutrition, and thus I see it as important. The test really calmed me down, and made me feel certain regarding my daughter nutrition. As I recommend all my friends to breastfeed, I would recommend them to do this test!"
"As nutrition and health are close to my heart, I check the nutritional value of every processed food that I buy. Breast milk does not come with nutritional facts, and is of course not a processed food, but rather a superfood, the best food for our baby just as nature made it. Still, it was great to know, by MyMilk help, what my own milk contains. Does it really supply all the nutritional needs of my baby? The vitamins, fat, and more. Thank you for letting me really see that my milk has all is needed"
MyMilk tests and reports are not intended to diagnose or treat any clinical condition, or to substitute for a healthcare provider's consultation.
MyMilk test and reports are not intended to diagnose or treat any clinical condition, or to provide a medical recommendation and does not substitute the advice of your health care provider (lactation consultant, doctor, or nurse). These reports are not intended to tell you anything about your or your baby's current state of health, or to be used to make medical decisions, including whether or not you should take a medication or how much of a medication you should take. Our reports can identify potential nutritional deficiencies in breast milk and provide suggestions for improving the breastfeeding mom's nutrition. It is advised to consult with a nutritionist or a medical health provider before making any nutritional changes. Furthermore, nutritional supplements should not be taken without consulting with a physician.