MyMilk is committed to the global effort to defeat COVID-19
Harboring our unique skill set to promote the development of effective prophylaxis and treatment to the pandemic
R&D CENTER FOR HUMAN MILK ANALYSIS
Adevencing human milk research and development
in the academy and industry

We help YOU advance human milk research and development. For the science. For moms.  We have wide range of validated laboratory tests for human milk components -macronutrients, vitamins, minerals, microorganisms, WBC, immunoglobulin, enzymes.  you can expedite your research and understanding by in deep testing your samples. our validated lab tests are going routing QA so, you can relay of the numbers for real conclusions.  You did not find the test you need for your Goal, our development team will develop  the new test according to YOUR requirement. It go beyond testing. MyMilk can help to advance reserch and development by a mymilk unique database for breast milk composition, Pre-analytic solutions for human milk sample collection, preservation and transportation for delayed analysis,, unique standards and controls for routine testing of breast milk analytes and more. let us know how we can help you advance your discoveries. We are here for you
ACADEMY. Research tools for studying the influence of maternal status, disease and habits, environmental conditions, infant illness or age, breastfeeding duration and many more on breast milk composition.

GOVERNMENTAL AND INTERNATIONAL HEALTH CENTERS. Breast milk is  a non invasive tool for assessing both maternal and baby health outcomes. Identifying trends and deficiencies in population (infants nutritional status, maternal health, breastfeeding habits and more).

INDUSTRY. Study the effects of products related to breastfeeding practice and breastfeeding women (supplements, drugs, breastfeeding accessories such as breast pumps), or for breastfeeding babies (feeding devices, stability of drugs in  breast milk, human milk fortifiers and more) on human milk composition.

Our knowledge. Your advantage.
HUMAN MILK- A UNIQUE BODY FLUID, DIFFERENT FROM OTHER BIOLOGICAL FLUIDS.
Breast milk is a non-homogenous emulation with a large fat fraction, with defined distribution of components between water and fat fractions. Breast milk contains analytes in distinctive forms, with unique composition of enzymes, binding proteins and more that are different compared to other bodily fluids, requiring defined processing and expertise. Breast milk is non steriele, requiring certain solutions for sample preservation. Human milk analysis is our expertise. At all levels. Let us manage the analysis so you will focus on the science.
Professional R&D team with human milk analysis expertise, complementary qualified team (lactation consultants, dieticians), wide laboratory resources (analytical chemistry branch, bacteriology division, biochemistry & immunological section, and MORE), computerized systems for participant questionnaire and meta-analysis, a unique database, pre-analytical solutions for human milk sample collection & preservation, standards and controls for human milk.
Dr Sharon Haramati and Dr. Ravid Shechter, the Co-Founders and CEOs of MyMilk laboratories, a company developing and commercializing breastmilk testing methods for individuals and companies. MyMilk was significantly supported by the Israeli innovation authority. Customers include Pharmaceutical companies, medical device companies and the national Israeli milk bank operated by MDA. 
Dr. Haramati and Dr. Shechter are also the co-founders of the mother's milk donation association, a non-for profit organization driving the establishment of Israel's first human milk bank and advocating breastmilk donation by breastfeeding mothers. Both are considered experts and pioneers in breastmilk clinical analysis. Dr. Sharon Haramati and Dr. Ravid Shechter are both life science PhDs. Both graduated with honors from the Weizmann institute of science (Dr. Haramati worked on molecular neurobiology under Prof. Alon Chen – The current president of the Weizmann institute of Science, And Dr. Shechter worked under Prof. Michal Schwartz focusing on the immunology of the nervous system).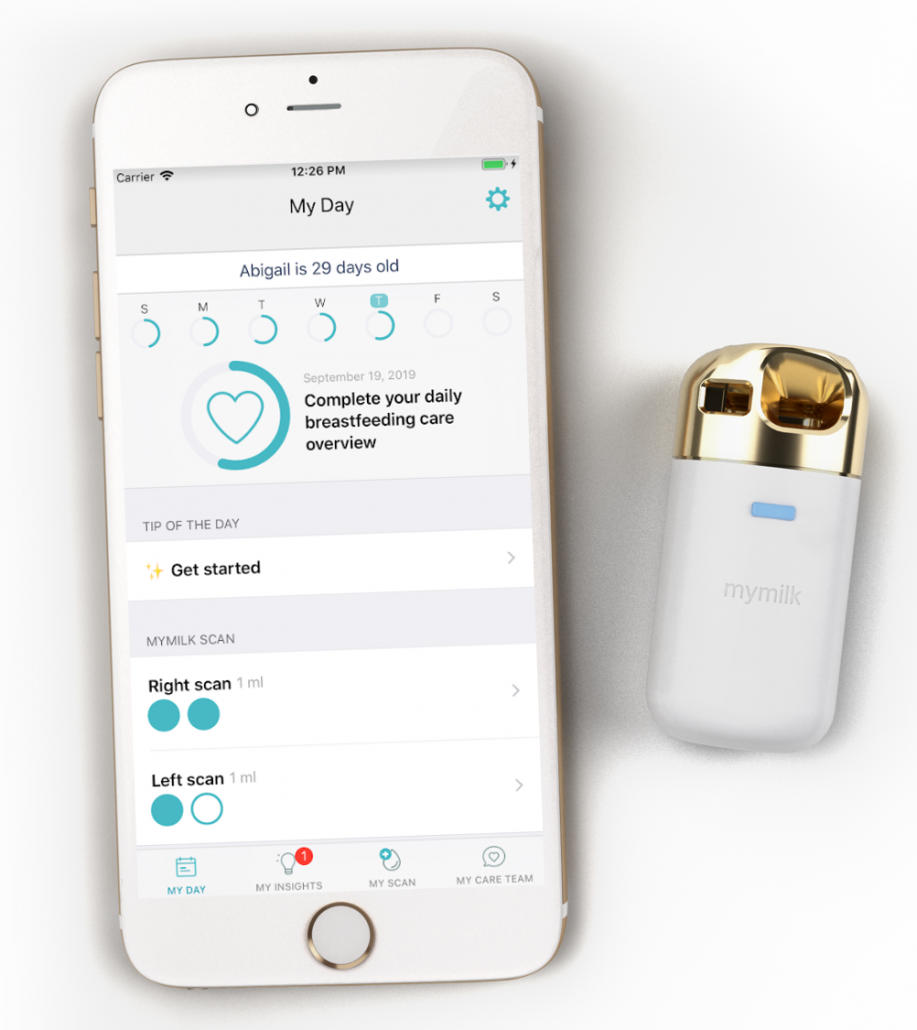 A milk sensing device and App, for personal feedback on milk supply establishment, and guidance throught the first weeks of breastfeeding