AI-powered breast milk monitoring

for Promoting mother-infant health
PERSONAL BREASTFEEDING MONITORING BASED ON MOTHER's OWN HUMAN MILK BIOANALYTICS
a mother- centered mobile health solution for personal, evidence-based breastfeeding monitoring, based on mother's own milk bioanalytics.
Human milk is a powerful, personal data source reflecting on each mother -infant dyad. MyMilk enable mothers and their healthcare providers to better understand mother's health and breastfeeding, by utilizing human milk as a non-invasive continuous monitoring tool.


EMPOWERING MATERNITY AT THE PAINFUL STARTING POINT
Breastfeeding is the starting point for the first 2 years of infancy. Once we help a mother early in her maternity journey, we will keep monitoring and guiding her infant health & care throughout infancy via our personal analytical platform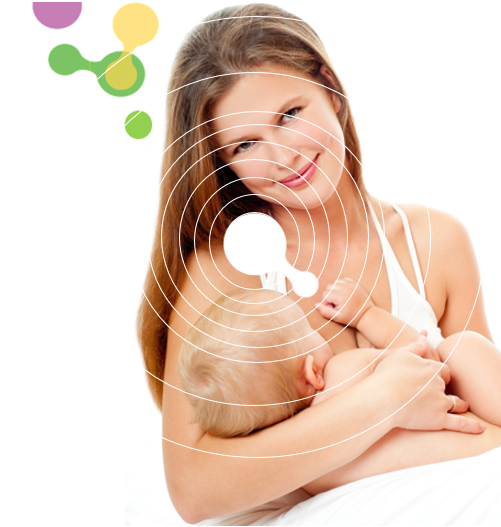 MyMilk ANALYTICS SOLUTIONS
From direct to consumer laboratory tests services to breast milk scanners, and smartphone embedded solutions ​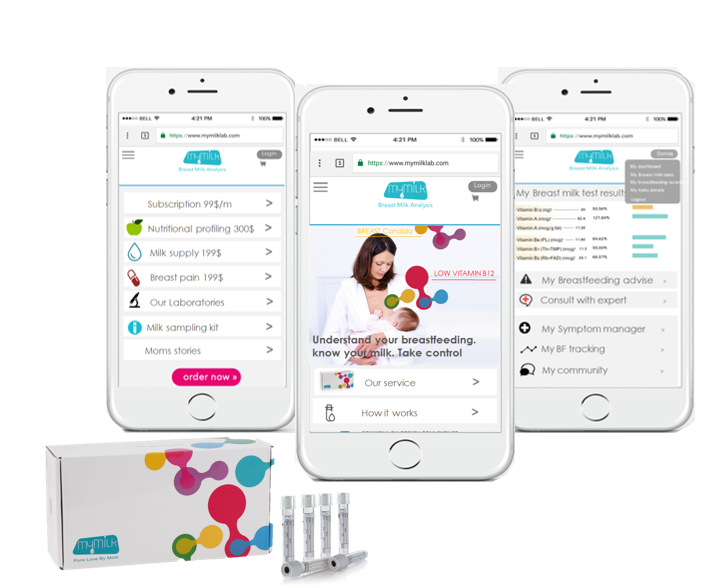 DIRECT TO CONSUMER MyMilk LABORATORY TESTS
3 simple steps. Online ordering and survey. Small Milk sample to MyMilk kit. Get result online.
MyMilk breast milk test for
Nutritional profiling, breast pain diagnosis and delayed milk production onset
Laboratory tests with a full digital interface, from ordering, to result visualiaztion. In-house generated breast milk tests, performed from MyMilk central laboratories, available directly to mom's home via mymilk online platform and milk sampling kit. Mymilk current test catalog includes breast pain diagnosis, delayed onset of bulk milk production diagnosis and human milk nutritional profiling. All tests are available via mymilk online platform with personal recommendation based on maternal-infant information, and online consultation with a professional. MyMilk developed all the pre-analytics (patent pending milk sampling kit), laboratory procedures, and post analytics (reference standards and actionable insights)
MyMilk BREASTMILK SCANNER
Mobile App and connected hand-held breast milk scanner, for on the spot continuous breastfeeding monitoring
1st application breastfeeding progress and milk production after birth (coming soon)
Mymilk develop breastmilk scanner and app for on the spot breast milk analysis, at the mother's home, enabling fast, easy, and continuous breastfeeding and breast milk monitoring. MyMilk scanner 1st application is early monitoring of breast milk production, starting at the first day after birth! System allows monitoring of breast milk production process, identification of delayed onset of bulk milk production and early identification of individuals at risk for low milk supply (enabling in-time and correct interventions, promoting breastfeeding success, copious milk production  and prevention of low milk intake complication like dehydration and excessive weight loss).
Pipeline applications include breast pain monitoring, milk nutritional assessment, and pumped milk shelf-life assessment
Next generation mhealth solution for new mothers and baby, via smartphone integrated sensors
Mymilk R&D team work with technological companies' development teams for future applications of next generation sensors, that are intended to be integrated as core smartphone technologies.  Our experts are working on new innovations generating better solutions for new moms to monitor their breastfeeding and baby's health.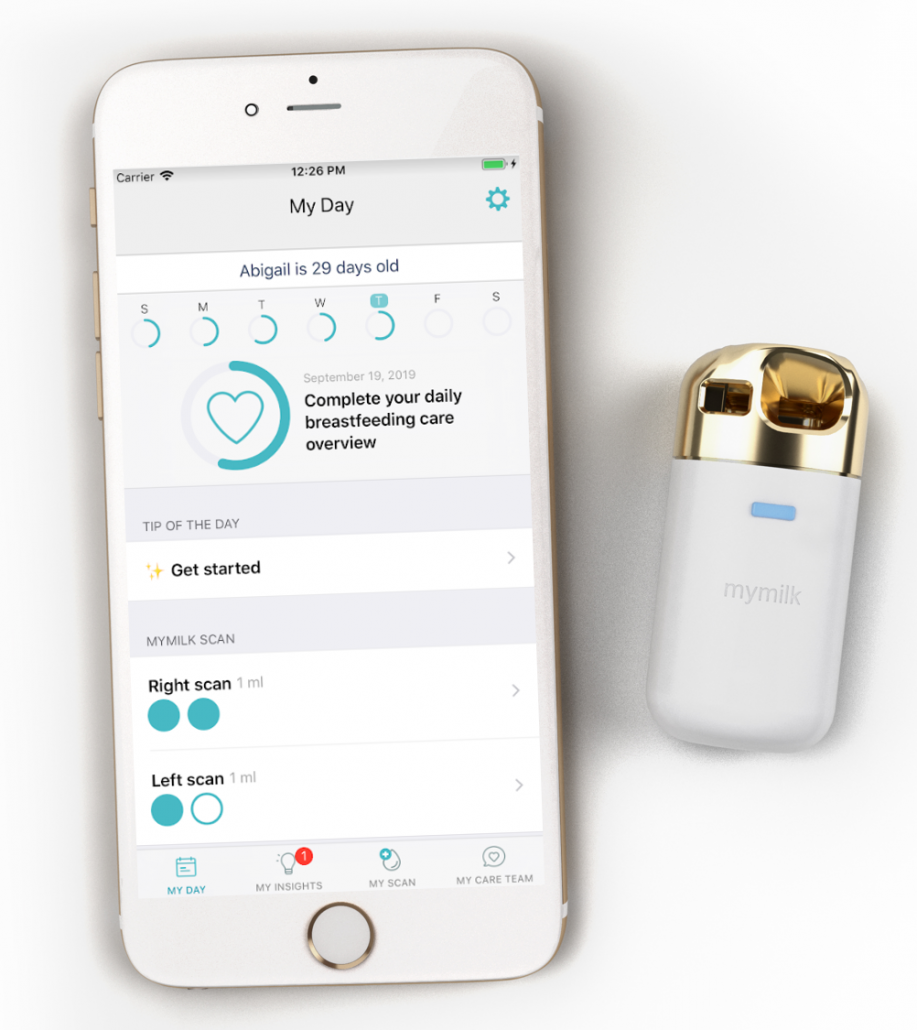 PERSONAL ACTIONABLE INSIGHTS FOR NEW MOMS.
Mymilk information system integrates mother and infant information with bioanalytics, from breast milk and blood tests, to generate actionable, personal insights. Mymilk algorithm is fed by scientific information, clinical guidelines and in-house generated database and AI.
From nutritional wellness to better breastfeeding practice, for longer and healthier breastfeeding.
Differential diagnosis of complications
From breast pain, to low milk supply diagnosis, for guidance intervention & treatment.
DATA-powered telemedicine services
Generating insights and alerts also to the mother's healthcare providers, for in-time and better professional guidance.
HELPING TODAYS MOTHERS
We already helped hundreds of users, 30% of which are paying costumers (avg $150/user), with 4.5/5 stars rating

Moms say that our solution SAVED their breastfeeding.
Helped them to take control. To guide their treatment. To Manage their concerns and complication. Get on-top of their health and wellness. And to be empowered by knowledge.
Mother Name: Ayala, Baby age: 5 days
Low milk intake alerts: Marginal weight gain, suspected jaundice
Mother Milk Bioanalytics: Alert! Delayed lactogenesis
Records alerts: infrequent breastfeeding, hyperthyroidism
Guide: pump between feeds, manage breastfeeding practice, check thyroid imbalance
Online telemedicine with lactation consultant
Outcome: balanced copious milk production
Mother name: Yona, Baby age:6 week
Breast pain alert: deep breast pain, burning after and during feeds, no edema/warm/hard breast area
Mother Milk Bioanalytics: inflammatory alerts
Records alert: repeated breast pain, antibiotic
Guide: frequent breast emptiness, guide intervention and treatment (antibiotic)
Online telemedicine with doctor for drug prescription
Outcome: breast pain FREE breastfeeding
Mother name: Rachel, baby age: 6 weeks
Mom records alerts: Vegetarian
Mother milk bioanalytics: Low B12, B6
Records alerts: low hemoglobin
Guide: maternal personal diet, spotlight on specific baby's symptoms
Online telemedicine with dietician
Outcome: doctor recommendation: check maternal blood status and prescription supplementation
Mobile health, consumerization of healthcare, and invasion of technology disrupt today health management, democretizing healthcare and driving better and preventative personal care.
Infancy mHealth is an almost un-touched market projected at
with a $4B market for breastfeeding monitoring alone
Mobile health market Grew from non-existing market to a $7B market 2015, $23B market 2017 (42% increase, and projected to reach $104B at 2023, and 189B at 2025 (CAGR 32.3%) (Research and Markets, November 2017). Millennial MOMS are early adopters, and 57% of mobile health users also have pregnancy related apps (Grail research, 2015). 
Prenatal testing is evaluated to get $7.2B by 2022 (research and markets 2016 (CAGR 28%), where NIPT DNA prenatal testing projected to reach $5.5B by 2025 (Grand view research 2016). 
Breastfeeding field is raising NOW. Breastfeeding rates higher than ever, growing, with health authorities targets to increase. Lactation consultant market grow x3 in 6 years (US CDC 2016: 27,000 (9 per 1000 live birth), 2010: 2.8 per 1000 live birth), and Breastfeeding supporting hospitals (called baby friendly hospitals) grow from 2.9% (2007) to 21% (2016) in US and 37% in Europe (with WHO targets of reaching 100% of babies). Breastfeeding pump accessories market (including breast pump) valued at $1.2B (8.8% CAGR) (of which breast pump $891M (2016), and projected at $2.6b, 2022). Market dominated by few players that invaded the market early
Breastfeeding is A submerging challenge
taken by most new moms
Today, almost every new mother start breastfeeding.
Most breastfeeding mothers have difficulties and complications, and STOP breastfeeding before they desire
new breastfeeding moms yearly globally

Out of each 10 breastfeeding women:
Breastfeeding difficulties
STAND with recommendations
Sub-optimal breastfeeding was recently evaluated to generate a yearly economic burden of $300 Billion globally and $13 billion in US alone,
as direct and indirect healthcare losses (LANCET 2016).