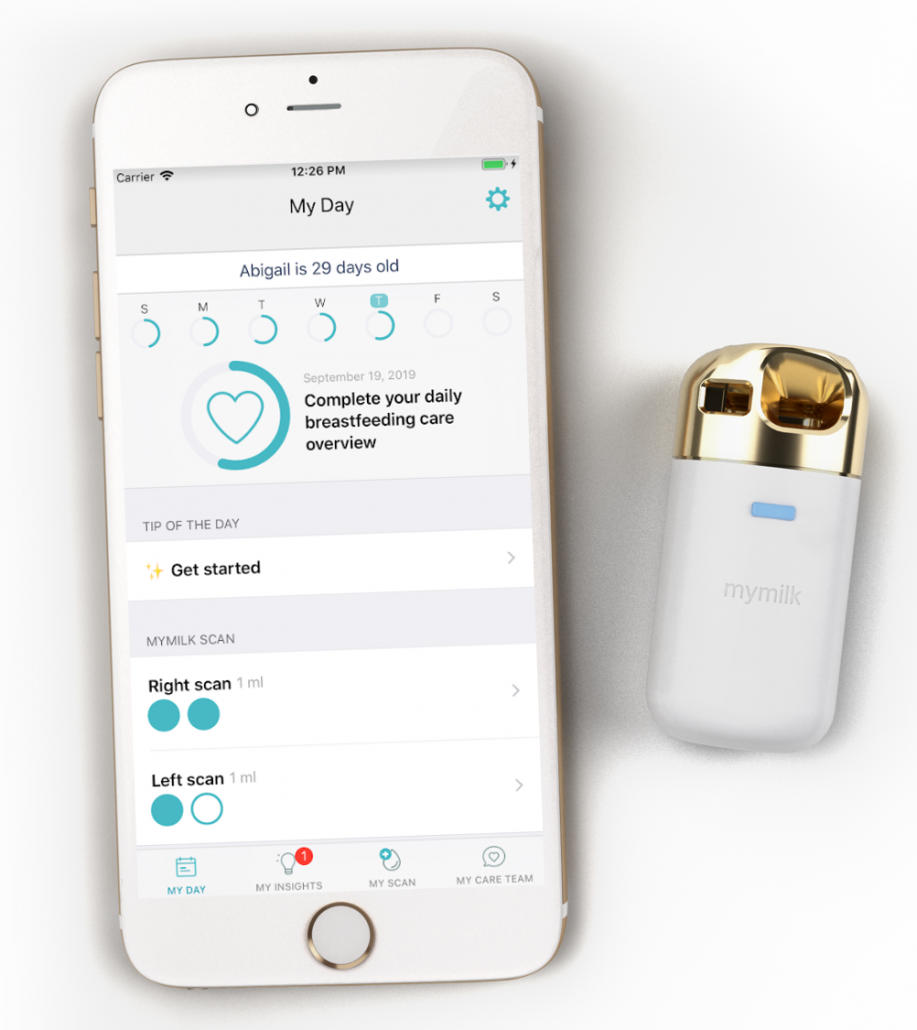 A milk sensing device and App for moms, for personal feedback on milk supply establishment, and guidance throught the first weeks of breastfeeding
MyLee is the system for Mother use, at their home, via their Phone. Any time. From the first days after birth.
Mom can share a report via the App directly to her lactation consultant.
MyMilk SCAN for Lactation Consultant
PERSONAL. EVIDENCE-BASED.
Tracking breastfeeding establishment and milk production, in the first days after delivery
EARLY BREASTFEEDING MONITORING
Because timing is everything.
The first days after delivery are crucial for breastfeeding and milk production establishment. For current and prolong milk supply. MyMilk scan give you an objective monitoring tool to track mother's individual lactogenesis II process. Early. Even before appearant symptoms.
Monitor mother in the first 3 week after birth, and start getting evidence-based objective tracking tool for monitoring breastfeeding establishment and milk production. A snapshot is valuable. Repeated early scans from the same mother, enhance the feedback received
Early monitoring of breastfeeding establishment, enhance in-time intervention for individuals at risk, thereby supporting prolonged breastfeeding success and reducing immediate low milk intake complications in the infant (low weight gain, dehydration & jaundice).
Mother's use. Healthcare professional use. Post-discharge monitoring and continuum of care
For Mother's use, Go to MyLee
Hand held patent pending on-the-spot scanner for tracking breast milk maturation process via a tiny breast milk sample.
Manage Breastfeeding establishment records, for tracking individual mom's breastfeeding and milk production data, and getting immediate evidence-based insights and alerts via mymilk AI system.
OBJECTIVE EVIDENCE FOR LACTATION CONSULTANTS
Breastfeeding monitoring tool, For better breastfeeding establishment support.
All at your professional hands, supporting immediate, individual, evidence-based decision making.
SCAN MOTHER'S OWN LACTOGENESIS PROCESS
SCAN mother individual breastmilk via MyMilk scanner, each breast separately, starting at the first days after delivery, Get an immediate feedback on breast milk establishment process via your MyMilk Scan App for lactation consultants.





Get personal evidence-based insights and a color coded alerts, on mother breastfeeding establishment progress and baby weight gain, based on mymilk algorithms.
MANAGE MOM'S BREASTFEEDING RECORDS


See profile, dynamics, and progress. Track mother own breast maturation dynamics by MyMilk scan, collect baby weight gain records all in one place, and manage symptoms and risk factors. see dynamics, get feedback & alarms
Monitor individual mom's lactogenesis process via mymilk scan. Get instant feedback and alerts, based on a unique AI, accounting to the specific day from birth and mother individual records.
Track baby weight gain, weight velocity, and test weighing. Get immediate insights and color-coded alerts. Track dynamics, manage records, and see trends.
Manage mother OB/GYN health records, baby weight gain, and scans. Track risk factors associated with breast milk production.
A professional dashboard, alerts, and insights for quick identification of mothers' breastfeeding records and alerts (lactogenesisII & weight gain), for early and in-time breastfeeding establishment support.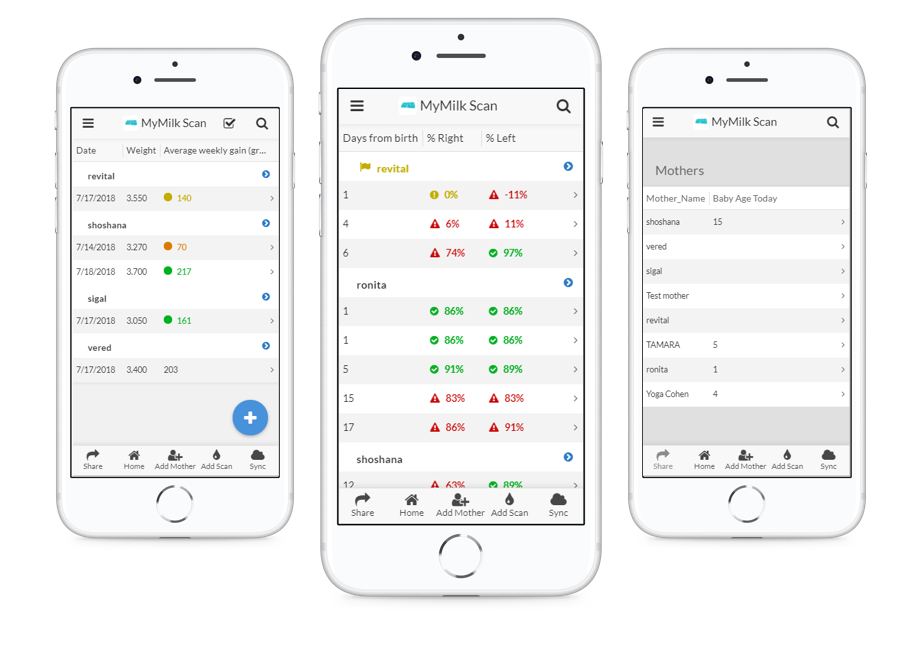 Want to join our professional testing group? Write us an email, and we will contact you as soon as possible, so you can learn more.